He's not only Punjab's superstar but has also totally won hearts on Snapchat!
Having celebs on social media is like a blessing because we instantly get hold of what's going on in their lives. Well, it's easy for them and for us to connect to them. One of the reasons why several celebs are making their social media game on point is because that way, their fandom won't fade away. With so many social media apps surfacing, like Facebook, Twitter, Instagram, we now have Snapchat too! I'm personally a big fan of Snapchat as it is quite the cool app! And again, having said that, isn't it obvious that a lot of celebs are also there on it. Sonam, Jacky, Sona, Amy and a lot more celebs are present on this app.
One such celeb is rising star of Bollywood and acclaimed superstar of Punjab, Diljit Dosanjh. Honestly, Diljit is one of the coolest celebs on Snapchat! Now I might have to apologize to all the ladies like Sonam Kapoor, Jacqueline Fernandez, Sonakshi Sinha but Mr Dosanjh has totally taken over Snapchat by storm! While the divas and other B-Townies are enjoying this app, it is Diljit, who is actually making us laugh with his funny antiques! Now funny is not the only trick Dosanjh has up his sleeves. Check out the seven reasons why you should follow Diljit Dosanjh on Snapchat!
He is super active!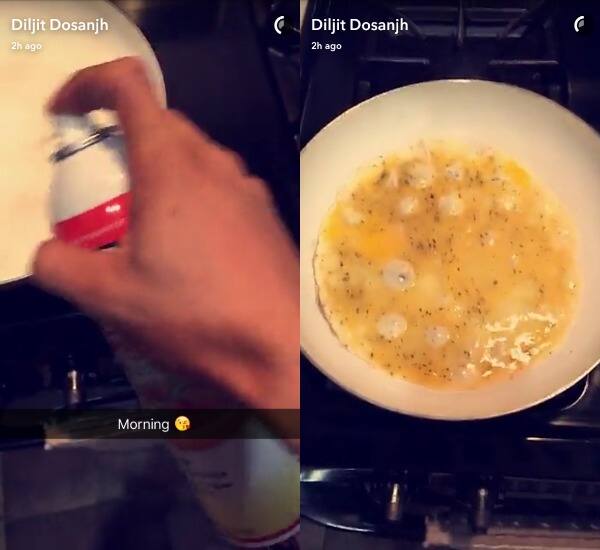 >
There is no stopping this Sardaarji actor! He updates his story almost everyday! As soon as I wake upband switch on my Snapchat, I see an update on his story, which, without a doubt, is awesome AF!
His stories are just as entertaining as his movies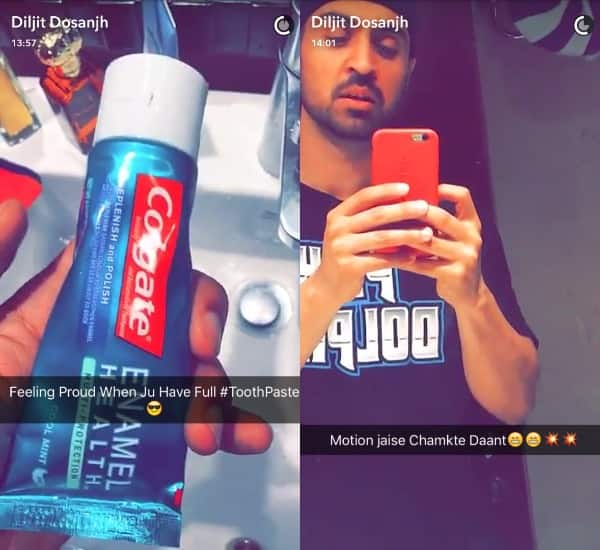 >
Mr Dosanjh is just like us and his stories are proof of the same. He does things anyone would normally do but because he's a celebrity, it makes us smile and leaves us entertained. Luckily, I even found his snap story on his Twitter where he shared how his English is high! Check out the video below.
He updates all with his daily life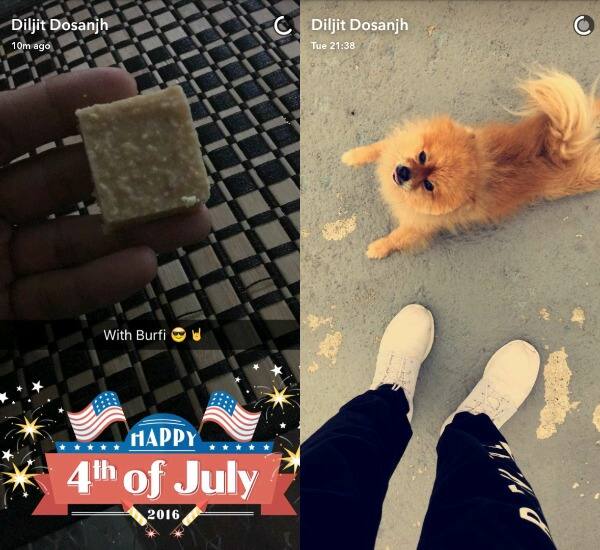 >
Now the best part of him being so so active is we get to learn more and more about what's happening in his life. Currently, according to his Snapchat, we know that he's travelling places from Europe to now US! Did I say how convenient it is to know things about his interesting life? Well, now you too can witness it by simply following him.
He sings randomly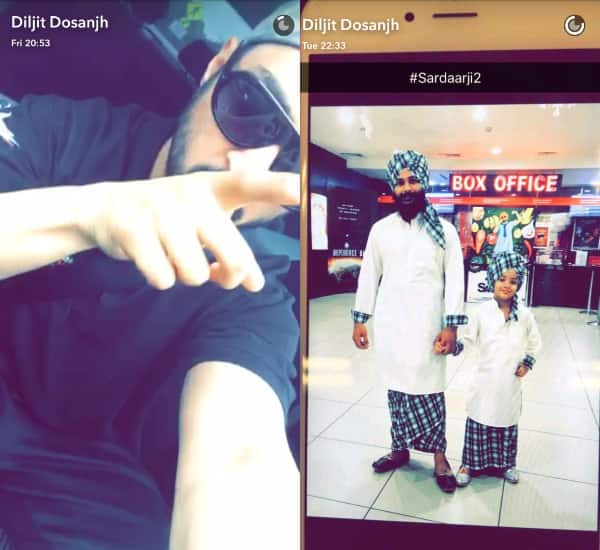 >
Mr Dosanjh doesn't need any reason to sing. All he's gotta do is just sing. As we know already, the actor is also an acclaimed singer, so he does his singing too on his snap stories. Like the other day, he was singing Ikk Kudi while he was on the go.
He keeps Snapchatting about his shoes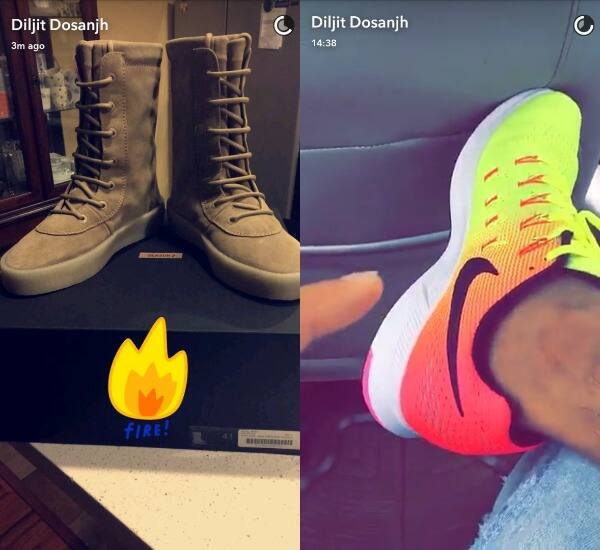 >
Oh, of course, how can that be ignored! We know just how much he loves his shoes, right? Especially the Yeezes. Therefore, its actually kinda adorable to see how he flaunts his treasures!
He talks to his fans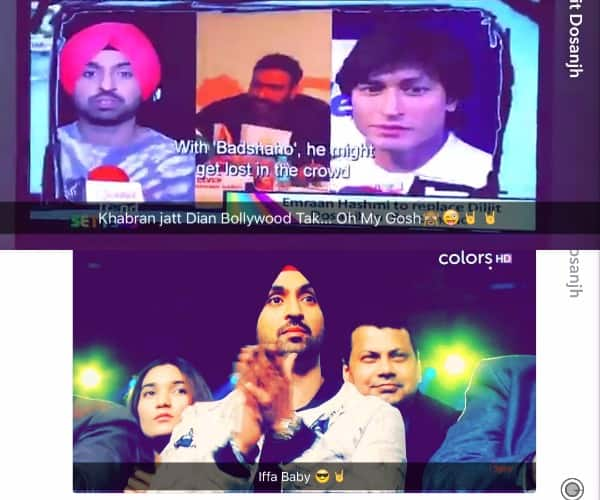 >
His Snapchat stories have him directly communicate with his followers and fans. Yes, he actually discusses good food, place he is at, happiness scenes and a lot more stuff. So yeah, it feels as though he's talking to you via your Snapchat! Isn't that cool?
He gives life goals on his Snapchat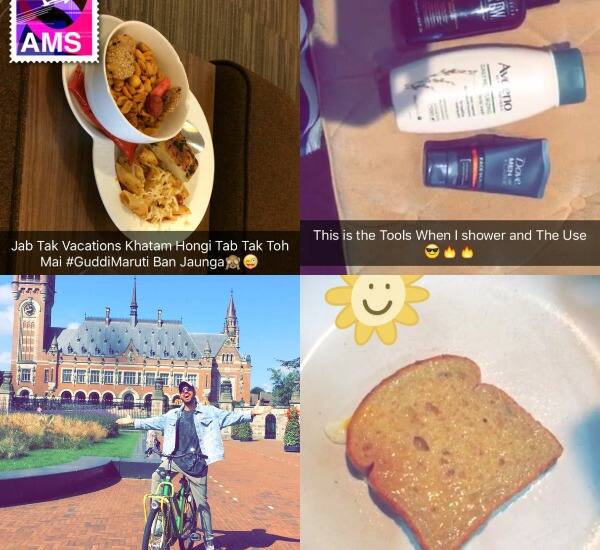 >
And you thought only Instagram or Twitter of Bollywood celebs give you life goals. Just check how Diljit leads his life and makes every moment count, you'll be damned by how down to earth and adventurous he is. Plus, with the kind of food, the places he goes, things he does, everything gives us life goals to be followed!
Are you gonna follow him on Snapchat? Tell us in the comments section below! And stay tuned to this space for more updates and gossips!
Source : http://www.bollywoodlife.com/news-gossip/7-reasons-to-follow-diljit-dosanjh-on-snapchat/