Chinos suggested; motorcycle not required. Photo: Silver Screen Collection/Getty Images
There's a strong case to be made for the chino: It's a softer, more urbane cousin to khakis. (Technically, chinos don't show any stitching, and are more of an indoor garment than a pair of khakis. Also, khaki is a color; chino is a style.) Men can wear them without having to get caught up in denim, which tends to breed cultish followings, especially for raw-selvedge jeans. Chinos are more neutral, but still sophisticated — a true day-to-night pant.
That said, there are a lot of them to choose from. Bonobos, itself a notable chinos emporium, has dozens of styles and fits. There's also an in-house Strat favorite chino from Rag & Bone that's been posted about before. To expand on that, and find out why some other men like their brand of chinos and the way they fit, we polled a new batch of chino wearers and lovers, and found everything from a cheap uniform staple to a very luxe pair from Milan.
The best chinos for $20
> Dickies 874

$20,

Walmart

We actually had two enthusiastic votes for the classic Dickies 874 work pants, which Noah Johnson, senior style editor at GQ, calls the "ultimate egalitarian chino." His favorite Dickies details include the fact that they come in different inseam lengths, meaning you might be able to avoid going to the tailor, and the "subtle sheen" and "flawless factory crease" in a still-new pair. Isaac Hindin-Miller, a fashion writer and DJ, also loves them: "They are the sturdiest pants on the market, they're stain-resistant, they're classic and will never go out of style," he says. "They're the same pants that I've been wearing since I was a teenage skateboarder living in Christchurch, New Zealand. The only differences are that I used to pay $90 per pair from my local skate shop back then in the 1990s, and now I spend less time on a skateboard. My favorite color of Dickies pants is white: They almost never get dirty, and I wear them all year round, Memorial Day be damned."

>
Best chinos for under $100
> Bonobos Washed Chinos

$88,

Bonobos

"Most chinos don't fit me well, particularly over my butt, which is on the bigger side. The ones that do sometimes don't fit over my thighs. I actually got some Uniqlo chinos that fit well (which is a first), but we'll see how long they last. I like Bonobos because they fit nicely over my butt and thighs without being too baggy at the ankle, and last longer in the seat than other chinos." —Calvin Stowell, chief growth officer at The Trevor Project

>
Best chinos with some stretch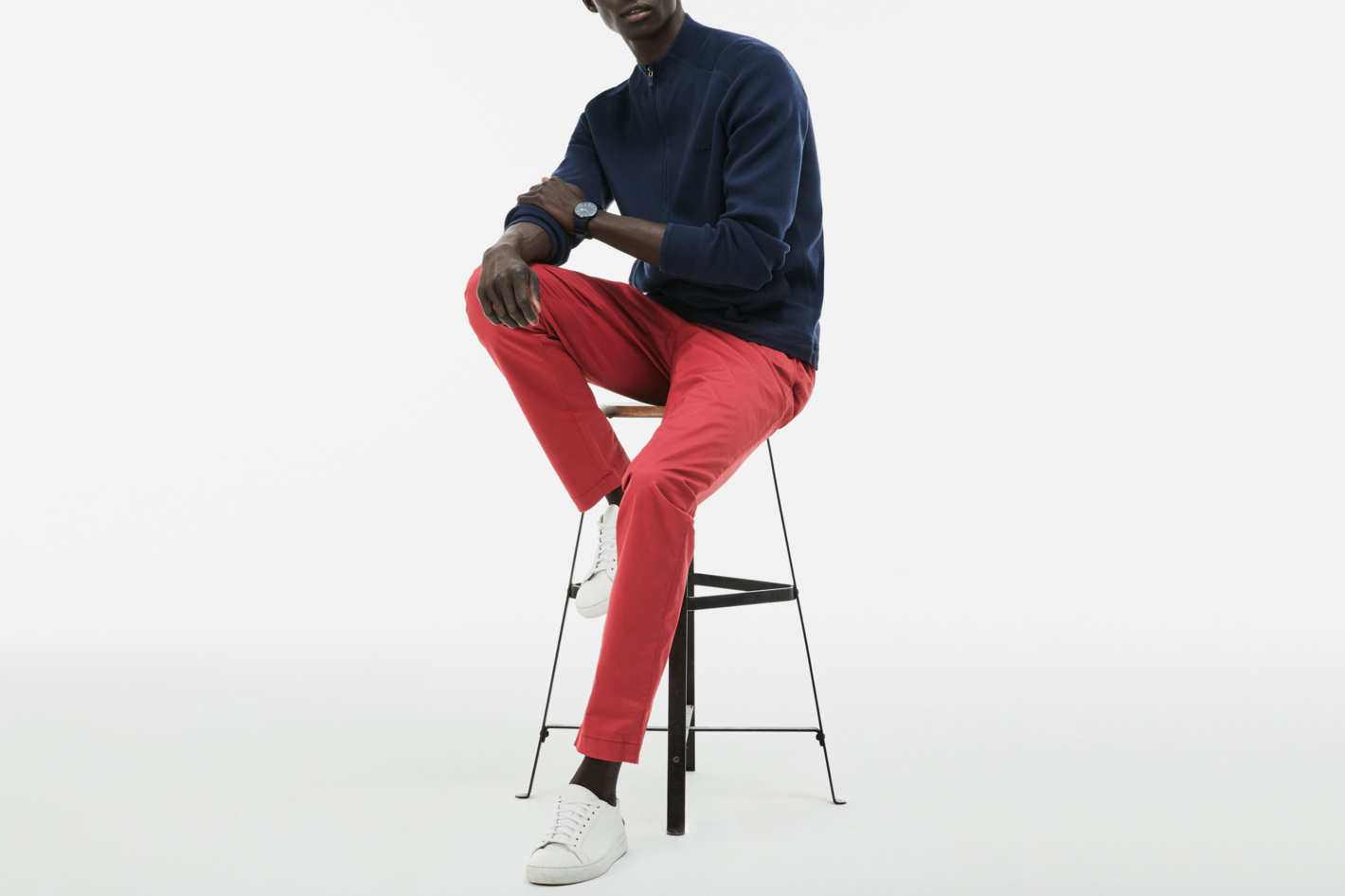 > Lacoste Slim Fit Stretch Chino

$98,

Lacoste

"I'm obsessed with my Lacoste Slim Fit Stretch Chinos. As someone with bigger legs, but who stylistically prefers a more tapered and tailored look, these chinos hit the mark, thanks to their slim fit and added stretch. In general, I'm a huge Lacoste fan, but up until a few years ago, they hadn't been one of my closet staples, especially for pants. A friend had told me the brand had really stepped up their game beyond the classic polos, so I checked out what they had going on. That is when I found these must-have chinos." —Barrett Pall, founder of website >Artisan & King

The best lightweight chinos
> Save Khaki United Bulldog Twill Full Taper Chino

$180,

Save Khaki United

"My favorite pair of chinos are my light-green-with-a-touch-of-olive Save Khaki chinos, which I bought at Stag in Los Angeles. I was looking for a lightweight option to my staple uniform, my jeans. They have a good summery feel when you want to dress up just a little, but still work with sneakers or even sandals. The material is super light and makes you feel very comfortable, whether you're spending a day in the park or out and about for an evening." —Erik Ulin, president of men's fashion, UBM Americas trade shows

>
The best chinos from Italy
> Fortela Pences Trousers

$277,

Farfetch

"I've gone through a lot of chinos in my life, but I've rarely found a pair I like as much on me as when I saw them on someone else. Then I stumbled upon Fortela, a small shop in Milan that makes its own line of broken-in staples. They're obsessed about their pants, which are cut in the new Italian style — roomy pleats, narrow leg — but made with Japanese selvedge. It's there I found a hearty cotton gabardine pair. They can't stand up without me, but almost." —Jay Fielden, editor-in-chief, Esquire

The best chinos for the art guy
> Atelier & Repairs Casual Pants

$113,

Yoox

$113

(was $219, now 48% off)

"I love my pair from Atelier & Repairs, a company that upcycles vintage khakis and applies small embroideries, patches, and clever detailing. I found the brand while scouting the menswear show Pitti Uomo in Florence, Italy. They have a broad variety, ranging from more colorful and statement-y to more subtle, which I have. They're quiet enough to be my go-to khaki, but with enough originality to stand apart. I'm wearing trousers these days that are fuller, with wider, straight legs. They feel a bit more refreshing to me, since we've been in a skinny-khaki world for quite some time." —Bruce Pask, men's fashion director, Neiman Marcus and Bergdorf Goodman

The best chinos for the classic guy
> Breuer Casual Pant

$179,

Yoox

"I was oddly forced to buy these when I rolled up to an old-school hotel in Antibes, France, in a pair of red shorts, and was quickly told by the hotel staff that a man's legs shouldn't be seen on the hotel grounds after a certain time. My options were either to return home and change, or purchase a pair of trousers at the hotel store, where they had these Breuer chinos in three colors. I reluctantly paid up, but now I sport them at least once a week. This could make me sound like a fatty, but my chinos usually blow out at some point, and leading up to that fateful moment, show some wear and tear. I've had these for almost three years now, and they show no signs of stopping. They also accommodate what a friend recently described to me as a 'yacht roll' if I want to go sockless." —Zachary Weiss, director of PR and brand partnership, Nice Laundry

>>
The best chinos for going beltless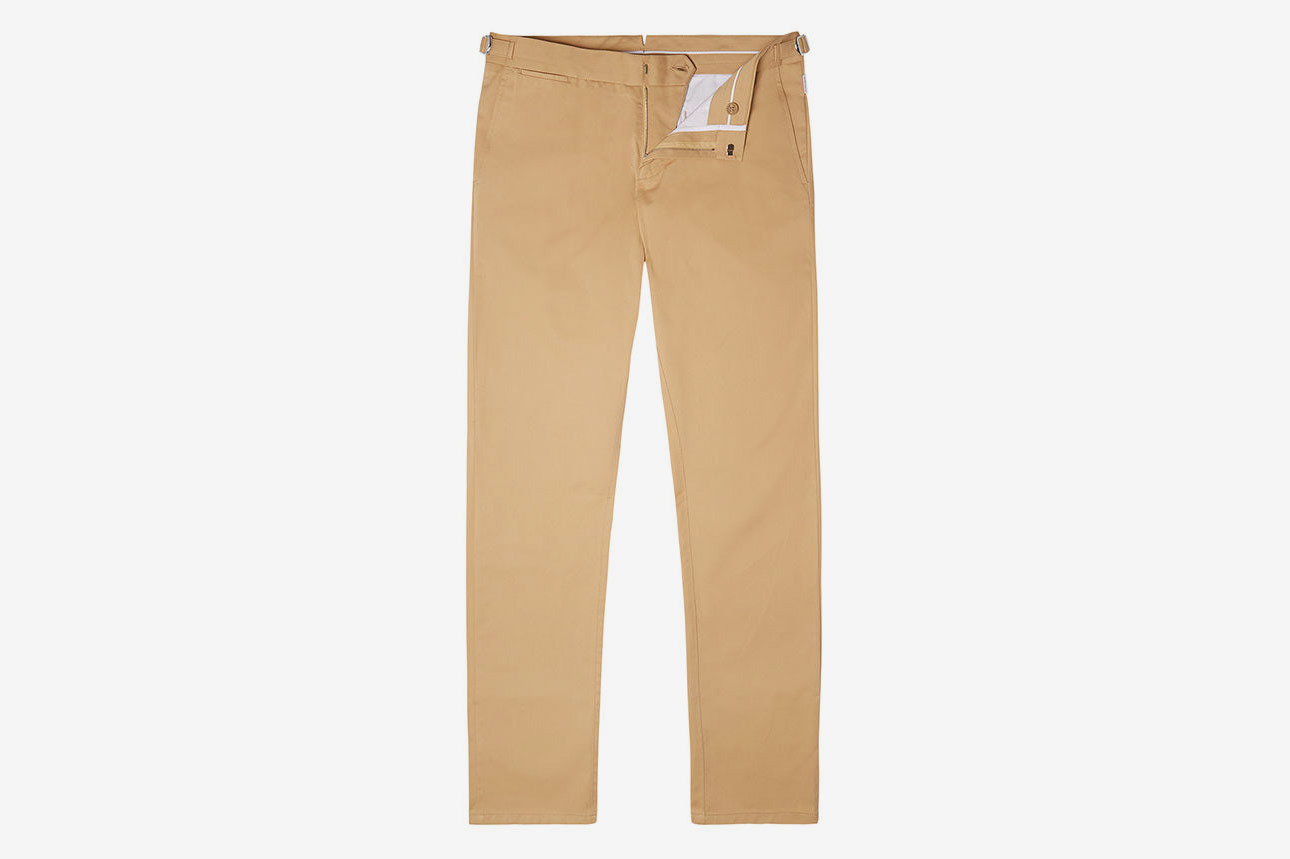 > Orlebar Brown Griffon Trousers

$157,

Matches Fashion

"Sometimes I feel it's hard to pull off chinos without looking like a used-car salesman. With that said, what I like most about these Orlebar Brown chino pants is that they have adjustable side fasteners, so you don't need to wear a belt, and I think a belt will make you look even more like a salesman. They hug my butt and fit nicely around my legs, since they're tapered down the leg. I own them in navy, khaki, and I have a seersucker version, too." —Moti Ankari, founder of men's fashion site >the Metro Man

The best chinos for the casual guy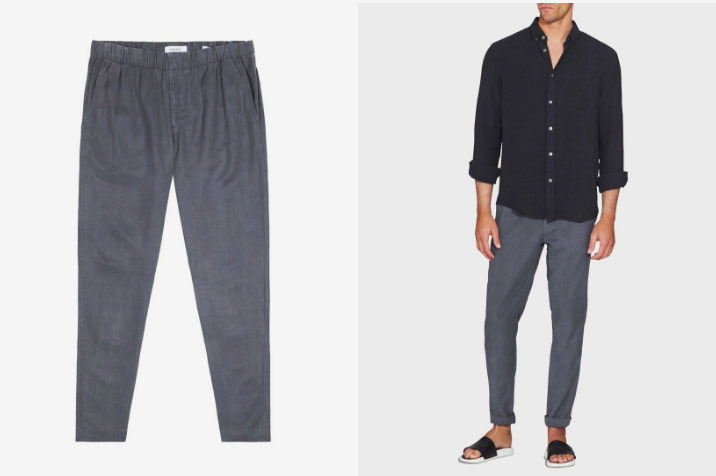 > Venroy Lounge Chino

$115,

Venroy

"My favorite pair of chinos are made by an Aussie brand called Venroy. They're made from a mixture of linen and Tencel, so they don't have that usual heavy feel of cotton chinos. It also means you can wear them in the summertime as well without overheating. The Tencel-linen fabric creates a whole new realm of comfort while also giving the chinos are really unique look." —Dougie Joseph, model

>
GET THE STRATEGIST NEWSLETTER
Actually good deals, smart shopping advice, and exclusive discounts. By submitting your email, you agree to our Terms and Privacy Notice and to receive email correspondence from us.

>The Strategist is designed to surface the most useful, expert recommendations for things to buy across the vast e-commerce landscape. Some of our latest conquests include the best >women's jeans, >rolling luggage, >pillows for side sleepers, >ultra-flattering pants, and >bath towels. We update links when possible, but note that deals can expire and all prices are subject to change.

Every editorial product is independently selected. If you buy something through our links, New York may earn an affiliate commission.

Source : http://nymag.com/strategist/article/best-chinos-for-men.html